Mitchell Airport Real-Time Parking Availability
Garage/Lot
Cost (Per Hour)
Max Per 24 Hours
Percentage Full
Status
Garage/Lot

Hourly

Cost (Per Hour)

$2/hr

Max Per 24 Hours

$23/day

Percentage Full
Status

Emptying

Garage/Lot

Daily

Cost (Per Hour)

$2/hr

Max Per 24 Hours

$13/day

Percentage Full
Status

Filling

Garage/Lot

Surface

Cost (Per Hour)

$2/hr

Max Per 24 Hours

$14/day

Percentage Full
Status

Filling

Garage/Lot

SuperSaver

Cost (Per Hour)

$2/hr

Max Per 24 Hours

$7/day

Percentage Full
Status

Filling

Garage/Lot

*Rail

Cost (Per Hour)

Max Per 24 Hours

$7/day

Percentage Full
Status

Filling
Valet Parking is now available! Drop your vehicle off in the left lane of the Ticketing roadway.
*Rail Lot is reserved for Amtrak passengers only. Tickets will be checked.
Rates include all taxes. First 30 minutes or less in Hourly, Surface, and Cell Phone Lots is free. Second 30 minutes is $2, then each additional hour (or fraction of) is $2 per hour, up to the maximum daily charge. All major credit cards are accepted in all lots and garage.
All lots are operated by InterFlight Parking. Customer Service is available 24 hours per day, seven days per week by calling 414-747-4561.
The Baggage Claim and Ticketing roadways should only be usedfor active loading and unloading of passengers and luggage.
---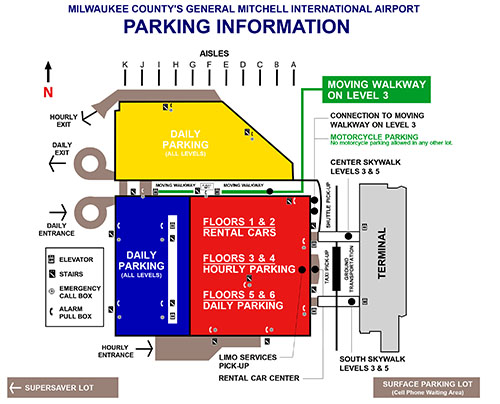 Parking Map
International travelers depart from the Main Terminal. Passengers who are making International departures should use the parking garage, Surface or SuperSaver lots. Ten (10) parking spaces are available west of the International Terminal for arriving passenger pickups only.
---
Parking Garage
The parking garage is divided into Daily and Hourly sections. The parking garage is connected to the terminal by skywalks. Vehicles taller than 7′ 0″ will not fit in the parking garage – they should be parked in either the Surface or SuperSaver lots. Vehicles taller than 6′ 2″ cannot park in aisles A or B in the parking garage.
Hourly
The Hourly section of the parking garage is the best choice if you need to park for less than five hours. Stays of 30 minutes or less are free – convenient for a quick walk into the terminal to accompany a passenger, or if you're waiting for an arriving passenger. Hourly parking is available on the 3rd & 4th floors (RED area).
Daily
The Daily section of the parking garage is your best choice for parking longer than five hours or overnight. Daily parking is available on all floors of the garage.
---
SuperSaver
Mitchell Airport's SuperSaver Lot provides a convenient and inexpensive parking option. The SuperSaver lot is located on Air Cargo Way only minutes from the terminal. Free shuttle buses run every 10 minutes, 24 hours a day. Follow the signs on the Airport Spur or from Howell Avenue.
---
Surface Lot
The Surface Lot is located immediately south of the parking structure and is within walking distance of the terminal.
---
Cell Phone Waiting Area
For those picking up passengers, Mitchell Airport offers a Cell Phone Waiting Area. Forget driving around in circles while waiting for family and friends to arrive. Simply pull in and enjoy 30 minutes of free parking while waiting for the phone call. It is located within the Surface Lot with 30 designated parking spaces.
---
Amtrak Station Parking
Amtrak Station parking is located on 6th Street, just south of Grange Avenue and the Airport Spur. Parking is $7 per 24 hour period.
---
Electric Car Charging
ChargePoint electric car charging stations are available for travelers parking in the Daily section of the parking garage and the SuperSaver Lot A.
Charging fee of $5/charge. Regular parking rates apply.
Daily Lot: Stations are located on the 3rd level, yellow section, aisle E.
SuperSaver Lot A: Stations in the SuperSaver Lot A are located just east of the main entrance.
Get more information on ChargePoint electric car charging.
---
Oversized, Van & Tall Vehicle Parking (Surface and SuperSaver)
Vans & vehicles taller than 7′ 0″ can park in the Surface Lot or the SuperSaver Lot. Oversized vehicles using more than one space are charged for the total number of spaces used.
---
Disabled-Designated Parking
Disabled-designated spaces are located in both the Hourly and Daily sections of the parking garage. Please follow overhead signage.
The third floor of the parking garage has a skywalk with a moving walkway that connects to the terminal. This area is enclosed, heated and air-conditioned. The moving walkway will transport you to the center skywalk, which leads into the terminal. Elevators provide access from all levels of the parking garage to the enclosed moving walkway.
Surface Lot disabled-designated spaces are located in the first aisle. No shuttle service is provided from the Surface Lot to the terminal.
In SuperSaver Lot A, disabled-designated spaces are located next to Shelter 2, Area D (a shuttle pickup shelter). Most shuttles have wheelchair lifts; there also is a phone in the shelter patrons can use to request a lift-equipped shuttle.
---
Unable to display map: google is not defined